PENCIL TO PAPER by Rick Barkdoll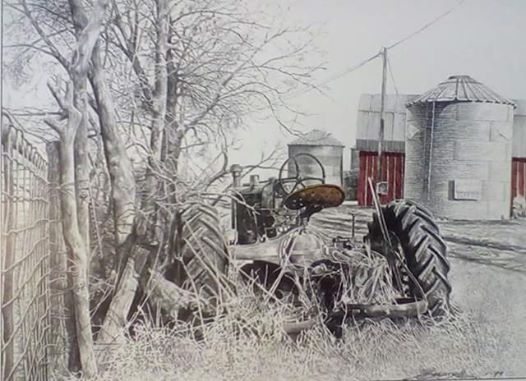 FREE EXHIBIT - OCTOBER 16 through NOVEMBER 17
Monday - Friday from 8:00 a.m. - 4:00 p.m. during the Bowlus' regular office hours, or by special appointment.
Rick has been drawing in the pencil medium since he was in elementary school. While this might be a talent exhibited by most his age, he fondly remembers the time his teacher interrupted class to show neighboring classrooms his prodigious ability. Rick attended school in Iola and is currently living in nearby Chanute, Kansas. A variety of Rick's amazingly detailed pencil drawings will be on display for this show. Prints will be available for purchase.
Join us at 6:00 p.m. on Friday, November 17, for a reception and talk with artist Rick Barkdoll. Rick will provide an introduction to his work and be available to answer questions. Doors will open at 5:30 p.m.
Make plans to stay and enjoy the high-energy performance by SONIC ESCAPE - Daredevils with Instruments scheduled in the Bowlus' Creitz Recital Hall at 7:00 p.m. Tickets only $12 - students 1/2 price.
The Mary L. Martin Gallery is located on the lower level of the building's east classroom wing, just adjacent to the Bowlus' main office.
Please enter the Bowlus through the SOUTH (alley) doors and follow signs downstairs to the office and gallery.
We are happy to open the gallery for a private viewing for a club meeting or similar outing. Please contact the Bowlus office at (620) 365-4765 to make an appointment.