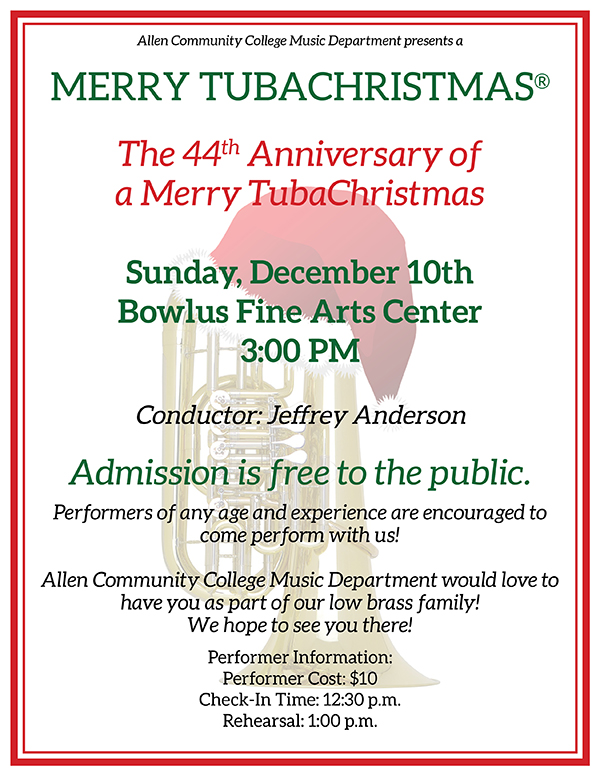 Allen Community College presents the 44th Anniversary of a MERRY TUBACHRISTMAS! This year's conductor is Dr. Jeffery Anderson.
Allen Community College would love to have you as part of our low brass family! Tuba and euphonium players of all ages and levels of experience are encouraged to come and perform with the group. Check-in/registration for participants begins at 12:30, rehearsal runs from 1:00-2:15 and the performance begins at 3:00. All participants should enter the Bowlus through the alley (south) doors for registration. The registration fee is $10 per participant.
Admission to the concert is FREE and open to the public. Doors will open at 2:15 and the show begins at 3:00. Bring your friends and family to this unique holiday event!
2017 is the 44th anniversary for TUBACHRISTMAS concerts/events which are presented throughout the world. TUBACHRISTMAS was conceived in 1974 by Harvey Phillips as a tribute to his teacher and mentor William J. Bell, born on Christmas Day, 1902. Through the legendary William J. Bell we reflect on our heritage and honor all great artists/teachers whose legacy has given us high performance standards, well structured pedagogy, professional integrity, personal values and a camaraderie envied by all other instrumentalists. The first MERRY TUBACHRISTMAS was conducted by Paul Lavalle in New York City's Rockefeller Plaza Ice Rink on Sunday, December 22, 1974.
To find out more about the history of TUBACHRISTMAS or to find other concerts in our area, please visit www.tubachristmas.com.
For more information on the Iola, Kansas event, please contact:
Doug Dunlap, Allen Community College
ddunlap@allencc.edu
(620) 365-5116 ext. 261
Dr. Jeffery Anderson
anderson@allencc.edu
(620) 901-6258